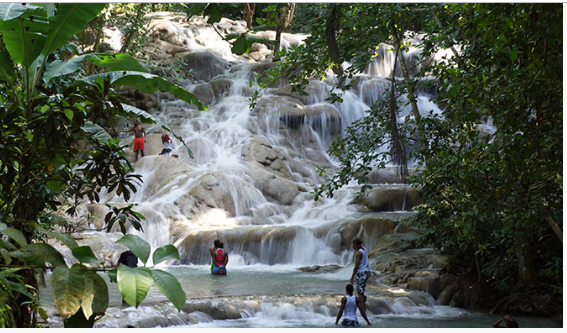 Dunn's River Falls in Ocho Rios is one of Jamaica's most popular attractions.
It is definitely one of the most beautiful places you'll ever see.
When you arrive, you'll be greeted by Dunn's River Fall's resident Donkey. His name is Bunny.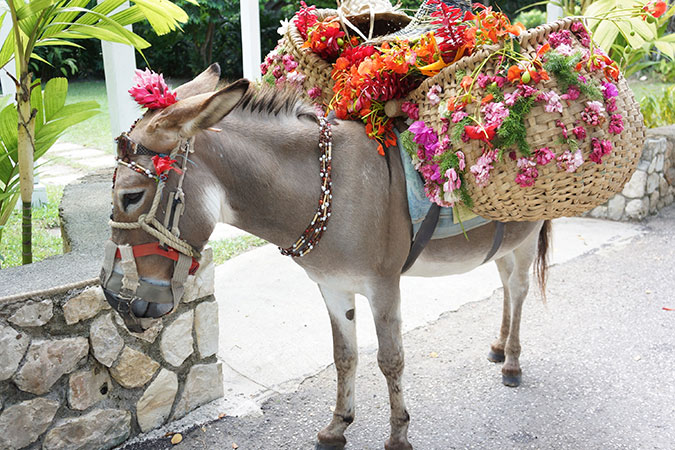 Bunny is quite possibly the most famous donkey in the world. People from just about every corner of the planet have come to Dunns River Falls and taken a picture with Bunny.
He's also a very good dancer so remember to ask him to show you the newest Jamaican dance. You'll be pleasantly surprised at how this donkey can boogie down.
After you take your next Facebook profile pic with Bunny, follow the walkway down to the Dunns River Falls Beach.
What makes this beach extra special is that it's one of the few beaches in the world that has a waterfall flowing directly into it.
Once you make it down to the beach, this is where you start climbing the falls.
You have the option of holding hands and forming a train, or you can try to find your own route to the top. Look out for dark-colored rocks. That's a sign that it might be very slippery. Even though very few people get seriously injured climbing the falls, I definitely recommend climbing with a tour guide. Tour guides climb these falls daily and know how to keep you out of danger.
Every group has a daredevil or 2 so if that's you, just be careful.
I've never been to a rainforest but that's the feeling I get while climbing the falls.
The sound of the water pounding on the rocks, the smell of fresh river water in the air, the cool shade of the lush trees and the many species of beautiful flowers.
You can't help but imagine for a minute that you're somewhere in the middle of the Amazon rainforest.
Climbing the falls can be intimidating at times. Some parts are steeper than others and there's a constant flow of water pulling your legs. This can make it difficult for you to keep your balance.
If you're not comfortable continuing with the climb, there are a few places for you to exit the falls before getting to the top. But you have to earn the right to brag to your family, friends, and coworkers that you climbed to the top of Dunn's River Falls.
Only the champions that make it to the top of the falls have the privilege of getting a picture beside the sign below. This is proof that you really conquered the world famous Dunn's, River Falls.
Courtesy of: http://things-to-do-in-jamaica.com/dunns-river-falls-tour-ocho-rios-jamaica/